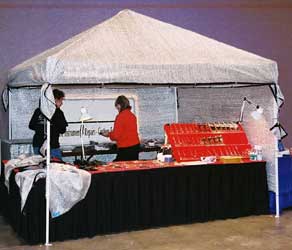 Beat the Heat
For the coolest dog under the sun!
Reflect away Sun's heat
Enjoy cooling breeze thru fabric
Unequalled Reflection and Cooling
Reduce Heat Fatigue
Durable, lightweight easy to Use
Open mesh fabric allows cooling air flow
Adjustable Velcro front closure tab and belly strap
Washes with a garden hose
Created to beat desert heat
Wear wet or dry
For supervised wear
KEEP YOUR DOG COOLER WHILE IN THE SUN
EXPERIENCE THE MOST EFFECTIVE K-9 COOLER MADE!
For extra cooling - dip jacket and wear wet
(if you increase the air flow through a WET K-9 Cooler it greatly accelerates cooling)
Achieve Proper COOL DOWN & keep your Performance and Working Horses cooler!!
Shade used by US equestrian barn in Athens Greece 2004.

This innovate sheet has an open front with two adjustable quick release chest buckles, a front surcingle strap and adjustable/removable rear leg-straps. Lining over withers increases durability and comfort.
Fabric Information
This knitted poly-aluminum fabric was developed in Israel and had been used for years to reduce the problematic effects of the sun. Silver Shade acts like a mirror reflecting the sun's rays back into the atmosphere. Other shade material absorb the sun's radiation, get hot and become a heat source to the area where cooling is desired. Silver Shade products do not absorb heat, they reflect it away, thereby doing a superior job of shading and cooling.

The open weave fabric also allows fresh air circulation. It provides a canopy that does not fill with water and facilitates the upwards transfer of heat and moisture. Developed for outdoor use, it has been used by the military for years, is UV ray protected and very durable. Silver Shade fabric does not tear, run or unravel. These unique features create an unlimited array of uses both indoors and out - for patio, gazebo, tent and RV shades; for equipment, vehicle and dog kennel covers; sky light and window shades; covers for outdoor seating areas, pool shades, even as horse sheets and dog jackets - whatever needs shading or cooling under the sun!
The Perfect Sun hade
Heat Reduction
70% Shade/Reflection of sun's rays
High Tensile Strength - Durability
Does not fray, run, tear or unravel
Lightweight, compact, easy to handle
UV Stabilized/anti-oxidation coating
Created for outdoor use/rot and mildew resistant
Washes with a garden hose

We use the highest grade reflective shade mesh manufactured

Tarps are edged with 2" polypropylene webbing; supple, rot/mildew resistant, 600 lbs/in. strength rating; superior to bindings of any similar product on the market. Rolled rim toothed grommets set in heat cut holes ensure lifetime placement, 12" spacings provide extra strength and convenience.